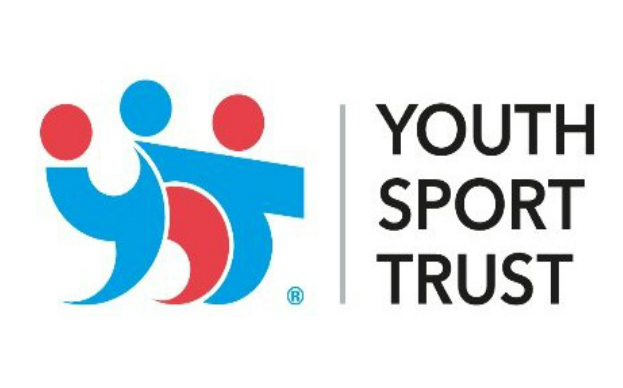 Catterick School Celebrates National Award Success for Commitment to PE and Sport.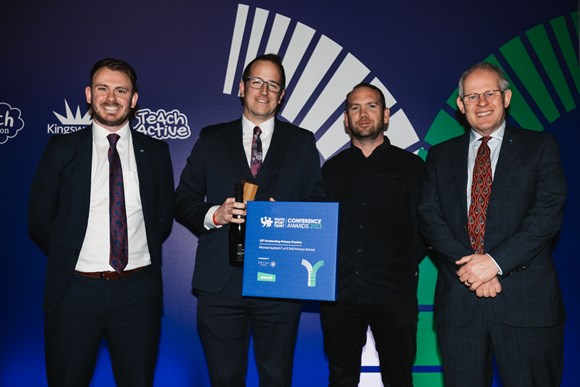 A school in Catterick, North Yorkshire has picked up a prestigious national award during the Youth Sport Trust's 2023 Awards for helping its pupils to improve their wellbeing and achievement through the power of sport. 
Michael Syddall Primary School was presented with the national children's charity's Outstanding Primary Practice Award during a ceremony in Telford on 1 March.  
The award recognises a school which has harnessed the power of physical activity, PE, sport and play to improve young people's mental health. 
The school impressed the judging panel with how it has embraced physical activity as the norm within everyday school life. Pupils have regular activity breaks in all lessons every 20 to 30 minutes to support better concentration and wellbeing. Pupils also have access to standing desks if they chose to use them. 
By taking this approach and focusing more on children being physically and mentally strong and able to deal with the demands of school, the school reported better pupil attainment and children's ability to cope better. 
Ali Oliver MBE, Chief Executive of the Youth Sport Trust, said: 
"The Youth Sport Trust would like to congratulate Michael Syddall Primary School, the winner of our Outstanding Primary Practice Award. The school has demonstrated a huge commitment to the important role of PE, play and sport in improving young people's mental health.   

"This generation is moving less, spending more time online and has experienced major changes in their lives following the Covid-19 pandemic. On top of this, increased social inequality amplified by the cost-of-living crisis are creating a ripple effect on their school and home life. It is thanks to changemakers like the staff at Michael Syddall that children will grow up healthier and happier."  
The Youth Sport Trust Annual Awards dinner was themed around 'A year of Changemakers' following the success of the Lionesses and Birmingham 2022 Commonwealth Games heroes who helped to inspire a generation and movement across grassroots sport. It took place at the Telford International Centre. A total of nine awards were presented by host, TV personality and author Radzi Chinyanganya.   
Michael Syddall was commended for involving pupils in the design of the PE curriculum, resulting in dodgeball being recently introduced. The school has also engaged with the Youth Sport Trust's Girls Active programme and has a 'Girls Active crew' who design and run events especially for girls. 
On winning the award, Neil Saunders, deputy headteacher at Michael Syddall Primary School, said: 
"It can be hard for people to see the true benefits and value of embedding sport, PE and physical activity in children's education as they often can't see past sport being 'going to a competition' or 'keeping the PE shed tidy', but this is far from the limit of the potential impact physical activity and sport can have in children's lives. 

"We've done so much at our school. I've been here for eight years and in that time through embedding physical activity across the school day, I've seen a huge impact on children's attitudes to school and learning. It's helped pupils to find their voice and feel connected to school life. Sport isn't about winning every competition, sure it has its place but I think the pandemic has opened people's eyes to the wider benefits.  

"Two hours of PE a week is not enough, we recognised that there needed to be more movement in everything we did so now our children don't work for more than 20/30 minutes before they get up and move around to reset concentration. We have started doing this during SATS tests now too. 

"Working with the Youth Sport Trust has made a huge difference because its given us connections, support, inspiration and the motivation to keep PE and sport at the heart of what we do and what we continue to try improve." 
The wider Youth Sport Trust 2023 Conference took place in Telford (2 March) with hundreds of headteachers, school sport professionals and businesses in attendance. The event saw Dr Alex George, former A&E now TV doctor and Youth Mental Health Ambassador for 10 Downing Street, and author of 'A Better Day' give an opening address alongside other high-profile speakers including a virtual address from the Secretary of State for Education, Nick Gibb MP.     
Attendees also had the chance to network, make new connections, and take part in workshops. For more information please visit www.youthsporttrust.org/conference-2023